Occupied Palestine (In Palestine Today)-  Four of the six Palestinian inmates who escaped from a high-security jail earlier this week have been captured, Israeli police say.
Two were found at a car park in the early hours of Saturday, police said.
The other pair was seized near the city of Nazareth on Friday.
A manhunt was launched on Monday after the six inmates had tunnelled out of Gilboa prison in northern Israel, in the first Palestinian prison break on this scale in 20 years.
The incident came after what Israeli media called a series of "blunders" by officials.
Palestinian militant groups at the time hailed the escape as a "heroic" act.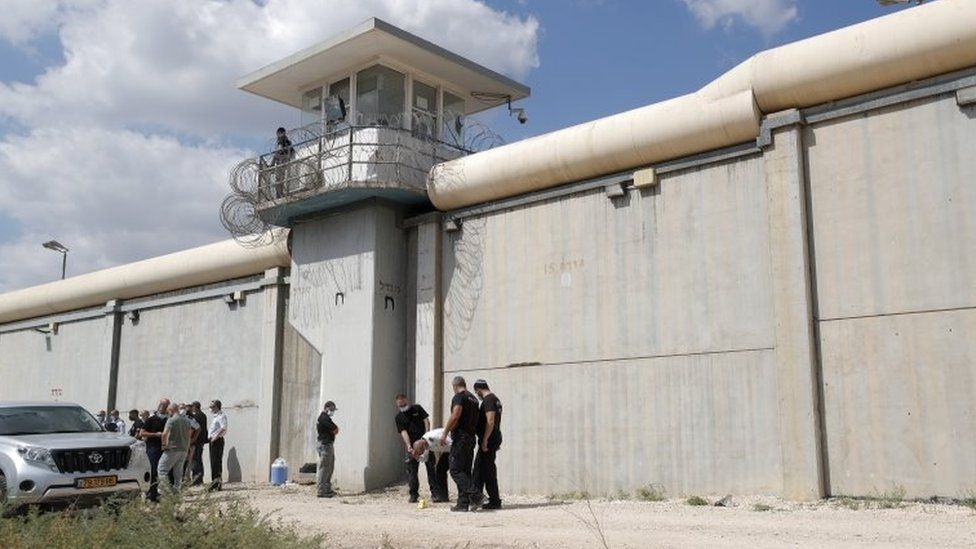 The fugitives are believed to have dug a hole in the floor of their cell over several months. It led to a cavity underneath the prison created when piles were sunk into the ground during its construction.
They are thought to have crawled through the space to reach the prison's outer wall, then dug a tunnel that emerged in the middle of a dirt road, just below a watchtower.
CCTV footage captured them leaving the tunnel at about 01:30 on Monday. But the alarm was only raised at 04:00, after locals reported seeing "suspicious figures" in fields near the prison.
Israeli media have blamed the jailbreak on a number of security failures.
They included the publication of a blueprint of the prison on the website of the architects involved in its construction; the placing of six prisoners from the West Bank city of Jenin in the same cell, including three considered of high risk of escape; and the decision to not switch on a jamming device that would have stopped them using smuggled mobile phones to communicate with people outside the jail.
There were also unconfirmed reports that the guard stationed in the watchtower next to the tunnel exit was asleep during the escape.
One of those captured is Zakaria Zubeidi, is a former commander of Al-Aqsa Martyrs' Brigade in Jenin. He was arrested by Israeli forces in 2019 on suspicion of involvement in a number of shooting attacks and was standing trial.
The other five – Mahmoud Ardah, Mohammed Ardah, Iham Kamamji, Yaqoub Qadri and Munadil Infaat – are members of the militant group Islamic Jihad. Four of them are serving life sentences after being convicted of planning or carrying out attacks that killed Israelis.
Source: BBC